First, I want to thank Robert Kerins and the Lewiston Writers' Group for providing me with this book so I may bring you this review.
Before I begin my review, I want to mention that this book may trigger some readers. This book contains abduction, date rape drug, rape with the intent of getting pregnant, etc. If any of these offend you this book may not be for you.
WOW!!! Robert Kerins really knows how to write a fast paced, jaw dropping, amazing crime novel that once you start reading you can't put down. Even if you tried to put it down you just can't. You need to know how it ends!! Robert wrote a never been written before story line that will just shock you to your core!! As a woman reading this you will feel for these women in the book and what they have gone through. You will be disgusted by the man behind it all. Overall, I now have a new favorite crime author and his name is Robert Kerins. I can't wait to read his other books.
One thing I really loved about this book was all the references to places in WNY. I smiled at many of the places I go to like Tops, Tim Hortons (my favorite place to get Coffee), Toys-R-Us, Niagara Falls, DiCamillo's, Leonardo's Pizza & Subs, etc. I could visualize the places that he was talking about in the book seeing that I was familiar with them. That made me smile and feel more connected with the book.
This book started out fast and one of the scenes that hooked me in the beginning of the book had me biting my short nails. Having the woman's body going over the rocks of the Niagara Falls. Being familiar with Niagara Falls I could picture this woman going over The Falls. Honestly, I could picture myself being that woman and going over The Falls. Granted she was found dead. But WOW the way he described it-I was in pain just reading it.
I am going to be very hesitant next time I go to Tops and interact with their employees.
This is one book that will stay with you emotionally and mentally way after you read it. I also feel strongly that this book would be great as a movie on the Lifetime TV Channel.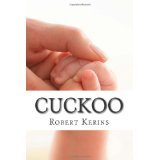 For More About Robert Kerins, CLICK HERE
For More Book Reviews by Heidi CLICK HERE