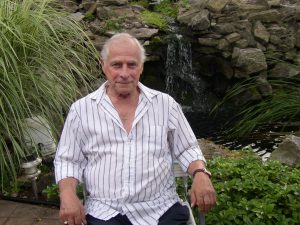 William Rowe started late for most occurrences in his life, graduating high school at twenty seven, becoming a father for the fourth time at forty five, attending Buffalo State at fifty and finding his religion at seventy seven. Still writing, he continues to realize it is never too late to find out who you are.
Books by William Rowe

Conversations with Morris

A story of a "hot stove" friendship from beginning to end. We knew each other quite well. But we never got to the point where everything had been said. There were too many things to learn, to discover, and too many things that happen in life not to be discussed.

The Santas of Mill Run – Beyond the Red Suit

An engaging story of a shopping mall Santa Claus, a young girl's belief, her insight, caring and influence, and his determination to do the right thing.

Seasons of the Bard
Seasons of the Bard is a collection of original poetry about life and love. Some serious, some poignant, some downright funny, all written with the author's sense of humor.

About William

William is retired and lives in Gasport, NY with his wife, Claudia.
William's Blog
You can hear from William and comment about his books by visiting his blog HERE.
Book Signings and Events

We'll post the dates, times and locations of William's book signings and speaking engagements here.  Check back often, or subscribe to his mailing list for updates!
Your Feedback, Please!
Please comment below if you'd like to comment on William's books.  Your comment can be as short as, "Great job!" or as long as a full-blown book review.  Let's all support William and tell the world what a fantastic writer he is!
For More Books by the Lewiston Writers' Group,

CLICK HERE