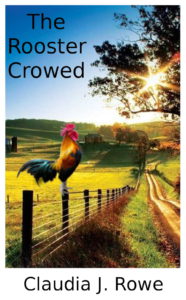 I've had lots of adventures with my brothers and sisters growing up on a 100+ acre farm in Western New York. As we grew up, there were other characters that were added to my memories.  The Rooster Crowed describes the fun you can have on the farm between the work it takes to keep it running and the bumps and potholes in the road, all good learning opportunities. I could not have written this book had it not been for the farm life we endured, and the mischief and other things we experienced. The farm gave us more of a backbone for our path through life. I am writing through the eyes of a child, and the memories of an adult, and a bit of imagination.
About Claudia
Claudia grew up on her family farm in Western New York.  She has two brothers, Bill and Tom, and two sisters, Diane and Bonnie.  Claudia and her husband, William, have seven children between them. Claudia started writing poems and short stories while in high school. She had several of her poems and short stories published in the Lockport Union Sun & Journal. She also had a story published in the Reminisce Magazine. Claudia enjoys listening to her kids sing. She and her husband, William go to yard sales, on trips, and go to estate sales. She has collected cookie jars for years, now totaling over 400.
Book Signings and Events

Subscribe to Claudia's mailing list for the latest dates, times and locations of book signings and speaking engagements! You can subscribe here.
Your Feedback, Please!
Please comment below if you'd like to comment on Claudia's book.  Your comment can be as short as, "Great job, Claudia!" or as long as a full-blown book review.  Let's all support Claudia and tell the world what a fantastic writer she is!
For More Books by the Lewiston Writers' Group,

CLICK HERE