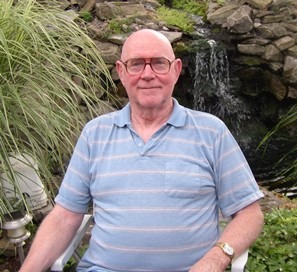 Charlie Woolcutt is a long-time member and true "staple" of the Lewiston Writers' Group.  He's published his novel, Founder & Other Stories on Amazon, and is currently working on writing his memoirs for the benefit of his children and grandchildren.

Books by Charlie Woolcutt

Our Founder & Other Stories

Mark Woolcutt is a gnarled branch of our family tree the genealogist wanted to ignore. Should we dismiss the branches that are in the shadows? He was of the underclass, sold into slavery, surviving in colonial New England, by his native wit and lack of scruples. We benefit from these ancestors, but ask the researcher, "Isn't there a Duke in there somewhere?" Alas, there wasn't. And that sets the stage for the first half of the book. Then a few memoir short stories, and finally, a novelette. All easy, enjoyable reading.

About Charlie
Charlie Woolcutt is a retired Construction Electrician and a craftsman, blacksmith and jewelry maker. He lives in Lewiston, NY.
Charlie's Blog
You can hear from Charlie and comment about his books by visiting his blog HERE.
Book Signings and Events

We'll post the dates, times and locations of book signings and speaking engagements here.  Check back often, or subscribe to his mailing list for updates!
Your Feedback, Please!
Please comment below if you'd like to comment on Charlie's books.  Your comment can be as short as, "Great job, Charlie!" or as long as a full-blown book review.  Let's all support Charlie and tell the world what a fantastic writer he is!
For More Books by the Lewiston Writers' Group,

CLICK HERE