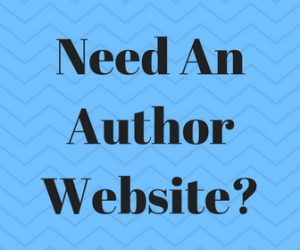 An Author Website is the obvious next step for anyone who has published a book and wants to get it noticed (and sold!)  Nowadays, authors don't need to beg editors and publishers to publish and market their books – we can easily do it ourselves!  Whether you've published a novel, a book of short stories, a memoir, a book of poetry…it's a wonderful feeling to self publish, then to see the book available online.  And having an author website is a great way to showcase not only your book, but your short stories, poetry, essays…it's a website all about you and your writing!

There are lots of companies out there that will sell you a website package, or who advertise, "Building Your Own Website."  But the truth is, creating your own website isn't that easy, and more importantly, you need to know how to get recognized in Google, Bing, and other search engines.  So if you can afford to invest a little money into it, it's wise to have an experienced website designer create your basic website.  You can always add to it, make it bigger and better, but you should be starting with a functioning, well-designed website as a foundation.
Get an Affordable Author Website
I am the Co-Founder and Chairperson of the Lewiston Writers' Group, and  I'm a Website Designer and Affiliate Marketer.  I have created many websites (including the one you're on right now!) You can see some examples of my work HERE.  Author websites are the most fun for me, being an author myself and knowing the thrill of seeing my work for sale online.  ?
Basic Author Website – $500
Includes:
Home Page – Introduction about you, your work.  Includes your picture.
My Book(s) Page – Includes a picture of your book, the write-up from the back of your book, and a link to purchase the book.
My Work Page – Can include short stories, poems, essays, etc.
About Me Page – Includes a short bio about you.
My Blog Page – This is where you can post upcoming book signings, new books published, etc.  I will set up the blog for you (or insert a link to your existing blog if you have one).  I can offer a lot of help on what to blog about – just ask!  ?
Contact Me Page – Includes your contact information.
Find Me on Facebook Button – I'll create a Facebook page for you if you don't have one.
Social Media Buttons – For people to share your website on Facebook, Twitter, etc.
Basic SEO (Search Engine Optimization) – Privacy Policy, Meta Descriptions and Tags, Google/Bing Indexing, Anti-Spam Software.
About Website Hosting – You will be purchasing your own domain (usually less than $15).  A domain is your "www…." address.  Once the website is created, you will have the option to have the website hosted anywhere you like (hosting means a company who maintains your website, keeps it visible and functioning on the internet).  Or I will host the website for you for $15 per month.
Payment
I require 50% before work begins, then 50% upon completion of the website.  I accept cash, checks and major credit cards.
Optional Extras
Subscribe to My Mailing List Pop-Up – Lets you create a mailing list of followers who will automatically get any new posts/blogs you do on your website.
Website Updates, Posts, Etc. – If you're new to having a website, I can offer help in learning how to do blog posts, how to add new books to your website, etc.  Or I can offer my services (starting at $25 per month) depending on the level of activity, to do these things for you.  Don't fret about this – your website will be beautiful and functional just as it is  – it's optional whether you want to add to it in the future.  Blogging is also optional.
Questions?
If you have questions, feel free to contact me HERE.  Otherwise, click below to get your website started!  Debra