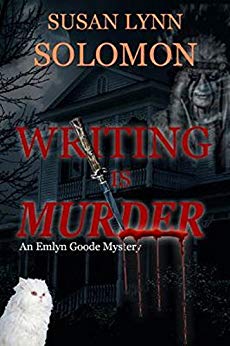 I had the pleasure of attending Susan Solomon's book signing this week at the Lewiston Public Library.  The evening included wonderful conversation with Susan and fellow writers about the art and joy of writing, and refreshments (the apple cider was perfect!)  The reading was wonderful, as is Susan's writing.  Truly an enjoyable evening!
-Debra Sherman, Lewiston Writers' Group
Enjoy this video of Susan reading from her book, A Shot in the Woods.

Susan's New Book, Writing is Murder
Cursed by a Native American brave, the Bennet House is one of the most haunted locations in Niagara Falls. This is where Emlyn Goode and all but one member of her writers' group hunt for ghosts on Halloween. What they find in the house, isn't a ghost, though. It's the body of Edward Bennet, the missing group member.
A few days earlier, Edward had shown Emlyn a document he'd found in the Bennet House, and told her it would anger people if made public. When Edward is found, the document is missing. Emlyn is certain that document will identify Edward's killer, but her search for it becomes dangerous when her lover, police detective Roger Frey is shot in the Bennet House, and then the killer comes after her and her friend Rebecca. Without Roger to protect her, can anything written in her ancient relative's Book of Shadows save Emlyn this time?

Visit Susan's Website at www.susanlynnsolomon.com