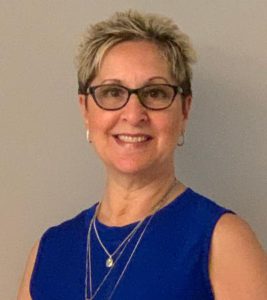 Sandra retired from the mental dental world after 35 years.  It was drilled into her that she really must share funny stories.
Sandra began her career as a certified dental assistant,exploring the fields of orthodontics, oral surgery, and general dentistry.  As a general dentistry and periodontal office manager, Sandra was the "happy voice" you heard when calling the office. Assisting chair-side allowed her to get her hand squeezed while providing comfort to her patient.
Her career goal was always to provide excellence in dental health care, giving each patient personal attention they need and deserve.  She continues to feel the sense of satisfaction, helping anyone in need find a way to a healthy smile.  Educating patients to help promote life-long oral health continues to be her gold standard.
Belonging to three gyms awarded her the nickname "gymratt."  She loves line dancing, decorating, and reading, especially while at the beach.  After many years of living on Long Island, she and her husband, Dave Cedar, aka "the Funmastaa," returned to Lewiston, NY, to be with her family.
Books by Sandra A. Mooradian Klein 
Mental Dental – Tooth Be Told

Enjoy some hysterical true stories like this: after experiencing such a positive outcome from her gum surgery, Hattie asked Dr. Happy Smile if she could use the soft tissue periodontal laser on her hemorrhoids.  Anyone in the dental field will tell you, you can't make this stuff up!  I began journaling funny stories to entertain my co-workers at our annual Christmas Party.  For the past 35 fulfilling years in the dental field, I have compiled my own comical situations.  Many of these stories have been shared with me and now I am sharing them with you.  Please know that all names and places have been changed to be entertaining and create a belly ache!  You might ask yourself why would anyone want to be a dentist let alone work for one?  It's really all about you, the patient. How we can make your visit as comfortable as possible because, let's face it, you are not coming in to get your nails done!  It is a true compliment to the office or staff member when a patient is so relaxed they share some "TMI" (too much information) moments.

Your Feedback, Please!
Please comment below if you'd like to comment on Sandra's work.  Your comment can be as short as, "Great job, Sandra!" or as long as a full-blown book review.  Let's all support Sandra and tell the world what a fantastic writer she is!
For More Books by the Lewiston Writers' Group,

CLICK HERE